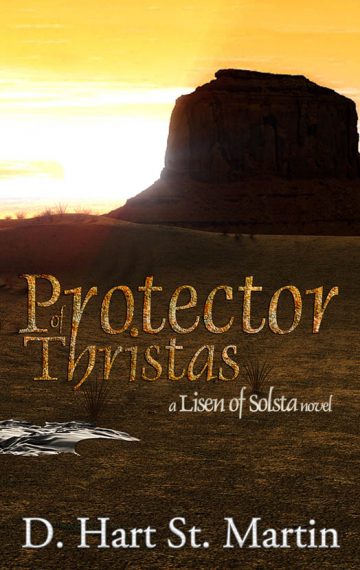 Available in:

Paperback, Kindle
Amazon
Far too often, romances in fantasy stories resolve with the hero and her lover embracing in their everlasting love. Protector of Thristas dispenses with that.
Lisen and Korin have shared their lives in a loving union, and in the fifteen years since Blooded, Lisen has evolved into a remarkable ruler. But she and Korin struggle with the role they've forced on their eldest child, Rinli, to keep the peace negotiated with the desert's people. 
Having inherited her mother's magical gifts, will Rinli's refusal to learn how to use them prove to be her undoing?
Return to Garla where happily ever after is a fantasy.
Where a mother can rule a nation and leave the cherishing of her children to their father without reproach.
Where that father can remain a brilliant and capable soldier while caring for his children.
Where magic can just as soon kill you as save you. 
Lisen, the Empir, remains our hero despite soul-rending heartbreak. Remember her pain.
REVIEWS FOR PROTECTOR OF THRISTAS
This book has a very steady pace, a thoughtful plot and a crazy dramatic ending that you don't really see coming. I'm glad to say that the characters that I've come to love over the previous three books are very well developed, but at times these very real, very flawed characters can be very frustrating, which is likely a testament to just how real they are. – Souland

The story is beautifully written, capturing the raw emotion of the main characters. Everything is revealed in its proper time, holding the reader by the imagination, leading them deeper into the story. – Chapter6
LITERARY TITAN
⭐️⭐️⭐️⭐️


As entrenched in fantasy as it is, [Protector of Thristas] does a beautiful job of capturing raw human emotions of happiness, anger, sadness, anxiety, and fear, especially when dealing with challenging mother-daughter relationships and the connections between a parent and a child. The cliffhanger ending left me feeling some of those emotions myself, and I can't wait to see if Hart will continue sharing more adventures from this world. – Literary Titan