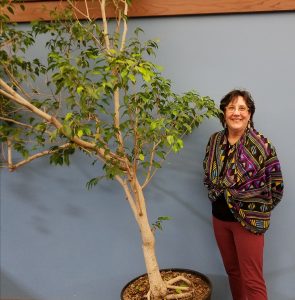 As Kelly Boyer Sagert puts it, "It's hard to believe (at least for me), but true—I've been working as a writer, mostly full-time, for 29 years." She lives in Lorain, Ohio about 30 miles west of Cleveland, and is married to Don Sagert with two grown sons—Ryan, aged 29, and Adam, almost 27—and I met her online too many years ago to count as a fellow member of the Women Who Write message board on AOL.
She recently published her first poetry chapbook (she says there will be more about that soon), and here is the bio she used for that: "Kelly Boyer Sagert is a freelance writer and eager reader, as well as a chocolate lover, socks avoider, cemetery wanderer, summer preferer, moonlight advocate, baseball fan and fledgling poet. She does not crochet, study calculus or yodel. She is married with two grown sons—and all three of them are pretty cool people to have alongside you on your life's journey."
Hart: What genre or genres do you write in? I know you write in several as well as journalism projects. Tell us a little bit about the genre that makes you the most happy when you're working in it.
Kelly: I get my energy from working on a wide variety of writing projects. I've written 15 books (or maybe more) and contributed material to dozens of other ones. I write plays, with the first one, Freedom's Light: A Stop Along the Underground Railroad, nominated for a Governor's Award for the Arts.
Another of my plays, Emma Gatewood: Are You Out of Your Bloomin' Mind?!?, was used as the basis for the documentary, Trail Magic: The Grandma Gatewood Story. These both told the story of Emma "Grandma" Gatewood—the first woman to solo-through-hike the Appalachian Trail, doing so at the age of 67. The documentary was shown on PBS and was nominated for an Emmy Award. We didn't win, but I have the coolest plaque ever hanging on my wall because I have sole writing credits for the documentary.
I ghostwrite content for company blogs, which I love because I love to research and learn, and I ghostwrite memoirs for people—which I love because people are fascinating, and I appreciate the chance to help them tell their life stories. I love to write poetry, and a couple of years ago, I had a short story published in Kansas City Voices that focused on finding emerging fiction writers. I also enjoy writing for encyclopedias.
H: Do you schedule time for your writing? Or do you just grab the odd minute or hour when it makes itself available to you? I imagine with all you do you must be disciplined in order to accomplish all of it. How do you keep it going?
K: I write about 50 hours a week, on average, a bit more if I've got more than usual going on. Five or six days a week, I'm writing by 8:30 or 9 a.m. I typically write until late afternoon, taking breaks for lunch/errands, and then I write again in the early evenings. Although I don't have hours that are 100% strict, I follow that schedule pretty closely each day and don't typically take days off, at least not Monday through Saturday.
I keep track of what I need to get done each day on a spreadsheet, creating one for each month. If something is getting close to a deadline, I change the color to red. If it's due that day, then it's changed to bolded red.
H: What research do you find absolutely necessary to keeping your story authentic? Now that's a question I ask fiction writers, but you concentrate on history, I believe. I'd love to hear about your methods of research and any exceptional lengths you ever had to go for a project.
K: I have a true passion for writing about history and I use a variety of sources to find information, ranging from online databases for newspapers, Questia.com (which gives me access to books, journals and more), Ancestry.com, Fold3.com, and so forth. I go to libraries to research their collections, talk to experts, and so forth.
One time, I was hired to write three encyclopedia entries about little-known historic Native American professional baseball players. When I contacted the Baseball Hall of Fame and Museum, which normally charged about $25 for copies of the files they had on a player, they told me they had so little that we bartered. They'd send me what they had, and, when I was done, I'd sent them my info for future researchers.
Because I had some birth certificate and death certificate information for these players, I started there, seeing what else I could find about each of them in the places where they were born and where they died. I worked my way from both ends to meet in the middle.
H: How do you see the role of women in literature (fiction and nonfiction) these days? And how do you promote women in your work?
K: I write about strong women who overcome challenges to accomplish extraordinary things. One example is Grandma Gatewood, mentioned above. She had an 8th grade education, raised 11 children while in an abusive marriage, and went on to become the first woman to complete the 2,050-mile Appalachian Trail hike by herself. She became the first person, man or woman, to complete this trail three times, and she also accomplished much more.
I wrote about Frances Ellen Watkins Harper, an "extraordinary woman of color" in my play, Bound Together: One Great Bundle of Humanity. Born in 1825 when much of her race was enslaved, Harper was a poet and abolitionist, an essayist, public speaker, journalist, suffragist and published fiction writer. She raised money for the Underground Railroad through her writing. In my play, Harper and Hannah, a fictional white nurse with a history of her own, get snowed in—and they each discover extremely upsetting things about the other person. To paraphrase a quote by the woman who plays Harper, we believe that this play will bless you, make you think, make you laugh, make you cry—and make you realize that, at the heart of it all, we're all more alike than different.
I'm also collaborating on a film about Victoria Woodhull, the first woman to publicly address a Congressional committee (1871) and the first to run for president of the United States (1872). In 1870, she and her sister, Tennessee, became the first female stockbrokers on Wall Street.
H: This is wonderful—all these amazing women I'm only hearing of now for the first time. Thank you. Now on to the business. Do you have a current release you'd like to promote? Tell us about it.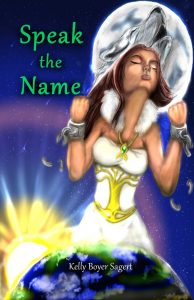 K: I recently finished my first chapbook. Titled Speak the Name, I wrote poems and snippets of prose where I share the names of my ancestors, along with those of multiple people largely forgotten by history. My goal is to give them a voice, thereby recognizing the importance of both speaking the name and honoring the process of naming. If this sounds interesting to people, they can contact me at kbsagert@aol.com. I'm still in the process of setting up online sales, but they can purchase an autographed book through PayPal for $8 plus shipping.
H: That sounds great. Thank you, Kelly.
And you can learn more about Kelly at her website, where you will find a long list of this prolific and hard-working writer's credits, and she'd love to have people connect with her on social media: