(Originally published November 12, 2015)
This article is a favorite of mine, so I decided to repost it. I hope you enjoy it.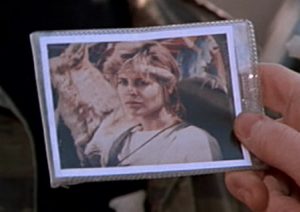 The best piece of writing I've ever experienced was not a book or a short story. It was a movie—The Terminator. I found myself thinking about this movie and its brilliant screenplay by James Cameron last night as I was considering how to approach an explanation to a writing friend of what I call the punch-line denouement. (According to Writers Digest, "the denouement is the final outcome of the story, generally occurring after the climax of the plot. Often it's where all the secrets (if there are any) are revealed and loose ends are tied up.")
For those who've never seen it, The Terminator tells the story of Sarah Connor, a 1980s college student working as a waitress. Sarah's life is irreparably changed when two travelers arrive from the future. One—a cyborg—has come to kill her to keep her from conceiving the savior of humankind. The other—Kyle Reese—intends to stop the cyborg and keep Sarah alive.
Warning: There be spoilers ahead.
From a feminist standpoint, this movie is perhaps the first I ever saw with a female hero at the helm of an action film. Yes, Sarah is the hero. It is she who must change in order to make the future possible. She begins as a fun-loving young woman who by the end has gathered together all the strength she possesses in order to face that future straight on.
Back to my point. Storytelling. The amazing screenplay by James Cameron blows me away every time I watch the movie or even think about it. I recommend it to anyone who wants to taste the joy of how to tell a very complicated story in a couple of hours. Cameron hands us each piece of information required at the very moment we require it.
Two men are after Sarah. Who are they? Are they both bad guys? Or, if one of them is good, which one is it? Boom. It's Kyle Reese, the young man who looks totally out-gunned by Arnold and who came back in time because he'd fallen in love with Sarah from a Polaroid picture. Why is Arnold after her? What does he intend to do with or to her? Boom. She's the future mother of the man who sent Kyle back in time to save her. How can you tell these cyborgs from humans? Dogs can sniff them out. And it goes on.
If you haven't seen The Terminator and you're a writer of any kind of fiction, I highly recommend it as the next movie you stream. Don't accept watching it on commercial television; they cut out the stupidest stuff, including any time a blow from Arnold connects, even when he punches through a windshield. Brilliantly concocted and shot on a budget that apparently precluded getting permits from the city of Los Angeles for all those street racing night scenes (they filmed them on the sly then slipped away into the night without getting caught), it is, in many ways, an indie film.
But, the most important aspect of this film is the way Cameron sets up his final scene. The movie reaches its climactic ending right after Sarah and Kyle have consummated their blooming love for one another. The terminator kills Kyle and then Sarah terminates the terminator. Glorious.
Cut to the final scene. Sarah in a Jeep driving through the desert, dictating into a tape recorder saying, "Do I tell you about your father?" Then, she rubs her very pregnant belly and continues on briefly about Kyle. A dog sits with her in the Jeep.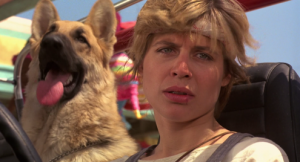 She pulls up to a little gas station out in the middle of nowhere. A boy runs up to the Jeep and exchanges a couple of lines with Sarah. He has a Spanish accent. He takes her picture with his Polaroid and then asks for payment which she gives him. It's the picture Kyle had fallen in love with. The boy's grandfather says something in Spanish, and Sarah asks the boy what he said. "A storm is coming." Sarah looks off in the direction she's headed and agrees when she sees the cloud. Then she drives off, and the credits begin with the Jeep heading away from the camera. Fade to black.
Now that all took far more time to describe than it takes on the screen. It's a simple little scene, and every single aspect of it requires no explanation to the viewer because Cameron set it all up earlier in the movie. And that, my friends, is how to deliver the punch line to a story. Set-up is everything. You shouldn't have to rely on explanations in the denouement. It should stand on its own.