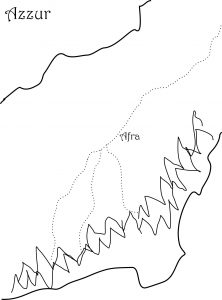 The members of my writing group are all confused. They keep expecting Lisen's Garla, but we're not in Garla anymore. Last week I wrote about the process of creating Garla, of what it took to make the absence of sexism, the elevation of women to absolute equality, work. This week, I'll tell you about the creation, in the wake of that revolutionary society, of a world that isn't a cookie-cutter imitation of Garla, a world that can stand on its own without leaving me yearning to return to that world where I spent so many years rather than staying with my new world in progress. A world called Azzur.
The story of Mari Spencer, the protagonist of my current project, begins on earth, just as Lisen's did, but where Lisen had a destiny and her life had not begun here on earth, Mari is all human with no prophecies to bind her. I started with a magical forest. In order to move from one world to another, there must be a portal, and the forsaken forest is that portal for Mari. She also has a guide, a woman named Tula who lives within that forest. Now all of that was easy, but where could I go from there? Where was the fantasy world I wanted Mari to discover?
The world Mari ends up in is Azzur. Actually, that's the name of a city state with Afra as its capital. I wanted something not entirely typical of fantasy settings, nothing medieval, thank you, so I settled on the fertile crescent, the cradle of civilization—Mesopotamia—as my jump-off point. That was the easy part. Plop a river down, place cities on its banks and move on from there. The physicalities were not at issue.
What was at issue was how men and women related to each other in this world. In my research, I was pleased to discover that during King Hammurabi's time, his code may have restricted married women from participating in commercial pursuits, but many women engaged in business anyway. Property was left to them by their husbands, and they then left that property to their children. Now this may seem like a given these days, but back then, it was a very big deal.
So how was I to make this world palatable to my feminist sensibilities without simply duplicating Garla? It took a while, as it always does, but here's what I came to. I began with Azzur having a ruler whose eldest child inherits regardless of gender. Men and women are equal in their spiritual life with the priesthood in the Temple open to both. In addition, the higher the social class, the more equal women are. But why? Why the upper classes but not the working masses?
Eventually I discovered—because world building is a process of discovery—that the existence of only female serpents (read, dragons), which are bonded to the royal family, triggered this effect. When I decided these female serpents would be parthenogenic—able to reproduce without the aid of a male—I realized this had motivated the royals into a belief that the bodies of females of any species knew somewhere deep within how to reproduce without the assistance of their corresponding males.
With their survival at risk, the male royals took their cue from the female serpents and started treating their own female counterparts as equals. The closest upper classes, including the priests in the temple, followed suit. On the other hand, the further down the social ladder a person lands, the more likely they are to think of the serpents as only a myth and—if they're even aware of the serpents' unique method of reproduction—parthenogenesis as part of that myth. Therefore, this equality of the sexes only goes so far, but in the upper stratosphere of Azurian hierarchy, it is a given.
If this sounds a bit contrived, it is. At this point. Book 1 of this series is in the midst of rewrite, and more will likely be revealed as I reach completion of this first story. World building is a process, with each step dependent on the last, and all steps open to reconfiguration, if necessary, until they've been permanently enshrined in print. We'll see how things change by the time I publish this book.