With the release of Star Wars: The Rise of Skywalker (which I have not yet seen), I thought it appropriate to repost this review from 2017.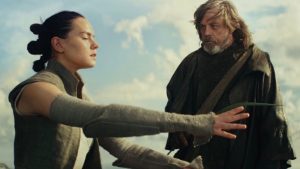 So, here's what I thought of The Last Jedi. I didn't love it. I haven't quite figured out why because I think it will end up #2 on my Star Wars favorite list, but there you have it. I started crying when Luke kissed Leia on the forehead and didn't stop until after I got in my car. It still makes me cry because my Star Wars is over. If Carrie Fisher hadn't died, she would have been left for episode IX, but we know they're going to have to off General Organa somehow. Sigh.
Kudos to Rian Johnson for finally getting the whole balance-in-the-Force thing right. The prophecy of "The Chosen One" always bugged the crap out of me. "The Chosen One will destroy the Sith and bring balance to the Force." That's like saying the Chosen One will kick the kid on the left side of the teeter-totter off and bring balance to the teeter-totter. Or let's keep the sun shining 24 hours a day. We need the dark. We need to recognize the darkness deep within is if we are to remain whole. If the prophecy had said, "The Chosen One will destroy the Sith and save the universe," I wouldn't have an issue with it. But it says "balance," and you can't have balance on a scale when only one side carries any weight.
Adam Driver was brilliant. That first scene with Snoke (the scene without Rey) where Snoke smacks him around verbally and tells him he's still a child and then the closeup on Driver's face where he looks like a child with that pout—great. Daisy Ridley—doggedly carrying on the seeker's role and doing it well. Carrie Fisher—I wish we'd had more. But Luke, beloved Luke, ripped apart and desiring nothing save dying on that island to put the Jedi to rest for good. I love the conflicted ones, and he was undeniably and beautifully conflicted.
I want to see it again and again. There's so much going on, I suspect it will take several viewings to catch it all.